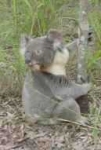 ALBERT AND LOGAN NEWS, WEDNESDAY, NOVEMBER 4, 2009 page 13 article reads as follows
Activists combine to ban houses [at Bahrs Scrub]FOUR conservation groups are joining forces to fight a 4000-lot housing development proposed for sensitive bushland at Bahrs Scrub.
Spokeswoman Petrina Maizey said the Logan City Council plan to allow 10,000 more people into a 510ha zone bordered by Wuraga and Sharton roads was
''irresponsible''.
She said the area housed endangered wildlife and flora and was unsuitable for development as it had serious soil and slope stability problems.
''To take a biodiversity hotspot and land 10,000 residents there is not just immoral, it's terribly shortsighted,'' she said.
M s M a i z e y s a i d environmentalists and residents would likely band together under the ''Save Bahrs Scrub'' banner during a public meeting at
Windaroo tomorrow.
Deputy Mayor Russell Lutton said Bahrs Scrub was flagged as a major development area under the South East Queensland Regional Plan. ''We will not be retreating from development there,'' he said.
Cr Lutton said the council was in preliminary planning and would soon begin an environmental study. ''I don't know what numbers (of residents) will actually
end up there,'' he said. ''If, when we get into the detailed environmental study, it shows more land needs to be protected then it may be less people.''
Conservation groups attending tomorrow's meeting include the Gold Coast and Hinterland Environment Council (Gecko), Logan and Albert Conservation
Association, Brisbane Region Environment Council and Wildlife Logan.
The meeting is at
Windaroo Valley State High School,
Beenleigh-Beaudesert Rd,Windaroo
Thursday 5 November 2009
6.30pm-7.30pm.
Email This email address is being protected from spambots. You need JavaScript enabled to view it..