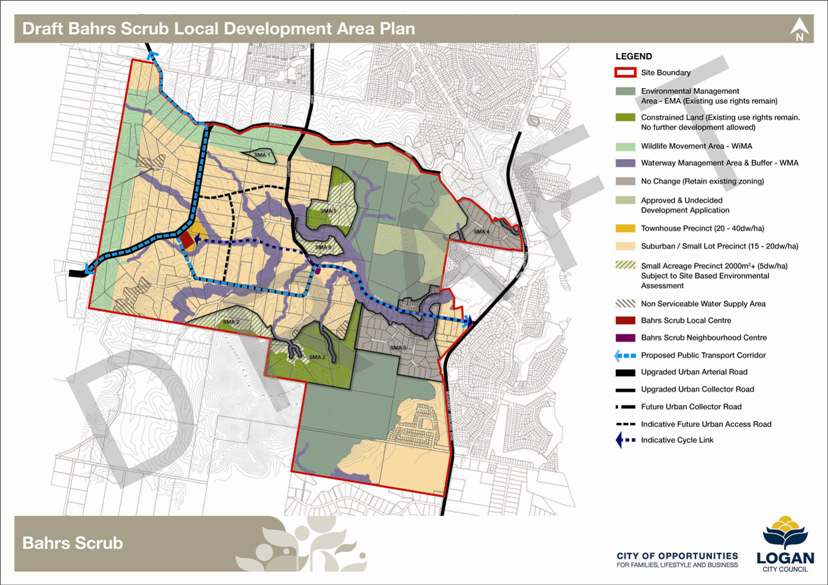 BAHRS SCRUB is one of Logan's natural treasures.
The area is home to many plants - some unique and existing no where else in the world.
But unlike our usual regard for treasure, when it is a land area we believe it exists mainly to benefit the economic growth of a developer - whether the developer be a large company or one person. Such are the natural values of Bahrs Scrub that many natural area scientists eg botanists, ecologists, zoologists, geologists made recommendations many years ago that the area become a NATIONAL PARK! Common land which is owned by the country for the benefit of all people seems to little understood or valued in our societies rush to build more housing for human habitat - with not enough regard for the displaced species - such as the vulnerable koala - now listed as endangered federally.
Click on image above to go to larger image for LDAP.
Click here for link to all council documents relating to Local Development Area Plan.
Council's proposed plan was available for comment - now closed - and all relevant documents are able to be viewed on council's site.
There are many differences, aspects of dissention and anomalies with the proposal and what environmental groups such as LACA Logan and Albert Conservation Association, BREC Brisbane Regional Environment Council and SBSA Save Bahrs Scrub Alliance which includes GECKO Gold Coast and Hinterland Environment Council and respected botanist Glenn Leiper believe are needed to achieve a better environmental outcome.
BREC says BAHRS SCRUB IN LIMBO.
The submission concludes .....
The initiatives within the Bahrs Scrub plan which should be included firstly feature a koala survey and tracking as Logan City does not have a Koala Strategy and Recovery Plan which has been undertaken in Redland City Council 2008-2012. The redesign of the road network, corridor network and storm water provisions has large impacts on future liveability and sustainability for the Precinct. The Planning Tools have a range of new and old instruments which should be consolidated to retain Endangered Vegetation on Windaroo Creek and in the Dry Rainforest Scrub in SMAs. A TEMPORARY LOCAL PLANNING INSTRUMENT (TLPI) Vegetation should be used, particularly in the northern part of the precinct to stop pre emptive clearing.
The submission is available here.

BREC_Bahrs_Scrub_SUBMISSION_LDA_Oct2012.pdf
SBSA Save Bahrs Scrub Alliance also submitted and that submission is available from following file.

SBSA_Submission_on_Draft_BSLAP_Sept_2012.pdf535.61 KB
If you are concerned to have genuine sustainable development then please take time to read these 2 submissions. While LACA acknowledges that development must occur, such development must not be "business as usual" .
A design to squeeze in a designated number of houses and associated infrastructure across a landscape we terraform to suit us is no longer acceptable. Human habitat must fit into the landscape in an harmonious manner.
This would include such conditions as are listed in SBSA submission...
- endemic species regeneration and planting
- restrictions on exotic garden plantings
- no predatory animals
- hydrocarbon limitation infrastructure
- self-sufficiency in water and power supply
- waste and sewage disposal independence
- noise and light limitation
- heavily constrained vegetation removal
- heavily minimized hard surfaces
- minimal to zero landform disturbance in construction
- maximal carbon sequestration opportunity
- maximal biodiversity support opportunity