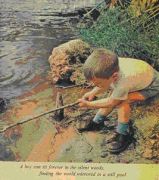 From all sections of the globe the scientific community is alerting us to the risks that our children and future generations will face if our new urban designs fail to account for the full potential for humans to develop in their natural evolutionary home. In America an organization Children and Nature has been working for several years to help us understand - and to provide assistance - the essential connection humans have with natural areas. This is the bush, fresh water country creeks, boulders and hills, forest litter, butterflies and bugs, all species great and small. Children need freedom to explore in their own time, in their own - to play in the dirt.
There are many resources available on their website. http://www.childrenandnature.org
The built environment does not provide the same opportunities the physical, mental, and social benefits that contact with the outdoors and nature provides to children.
Now that globally more than 50% of people live in cities, unless natural areas are included within accessable walking range, we potentially run the risk of losing the breadth of all of human stages of development.
In Australia research concurs with a 2007 State Government investigation into playground spaces in Victoria finding that young children ''need exposure'' to natural environments to appreciate the ''complex variations of texture, sound, light, smell, colour and temperature''.
The subsequent government report - The Good Play Space Guide - highlighted the creative impulses that can be fostered by play with the ''loose parts'' of nature - the leaves, twigs and gumnuts. But how realistic is it to expect today's kids to get out in the bush?
Prue Walsh has designed play spaces in early childhood facilities, schools and public parks all over Australia and is co-writer of Nature Deficit Disorder: Re-Connecting Suburban Kids with Nature published online here.
In Great Britain, the research has focused on greenspace supporting children's quality of life - including health and well-being, social and community value, economic value / impacts, environmental value, and planning and design.
"Play, naturally: A review of children's natural play" by the Children's Play Council is available online at
http://www.playday.org.uk/PDF/play-naturally-a-review-of-childrens-natural%20play.pdf
Rachel Carson of Silent Spring fame also wrote about the value of playing in the outdoors.