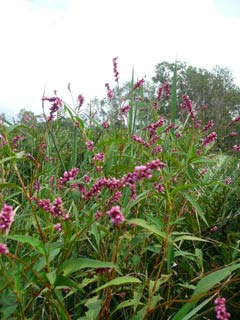 Information supplied by Barry Fitzpatrick April 2009.
My plant of the month for April is Persicaria elatior, a wetland smartweed with deep pink flowers. This plant has recently been discovered growing in the Cornubia Wetland Reserve, which is sandwiched between the M1, Beenleigh - Redland Bay Road, and light industrial and urban areas.
Listed as vulnerable under the Queensland Nature Conservation Act, Persicaria elatior has rarely been seen in Queensland, being recorded by the Queensland Herbarium only 6 times before this discovery.
But it is making a comeback. In summer last year, there were only three specimens found growing at the southern end of the reserve, and another eight at the northern end. This year there are around 30 plants in the southern section alone, and with new management plans being put in place for this recently acquired reserve, Persicaria elatior's future here looks secure.
Cornubia Wetland Reserve is only a short distance away from the newly extended Cornubia Forest Park.
Healthy wetlands play a vital role in the health of our environment. If you believe you can identify this plant at other locations please let LACA Logan and Albert Conservation Association know and also the Queensland Herbarium.