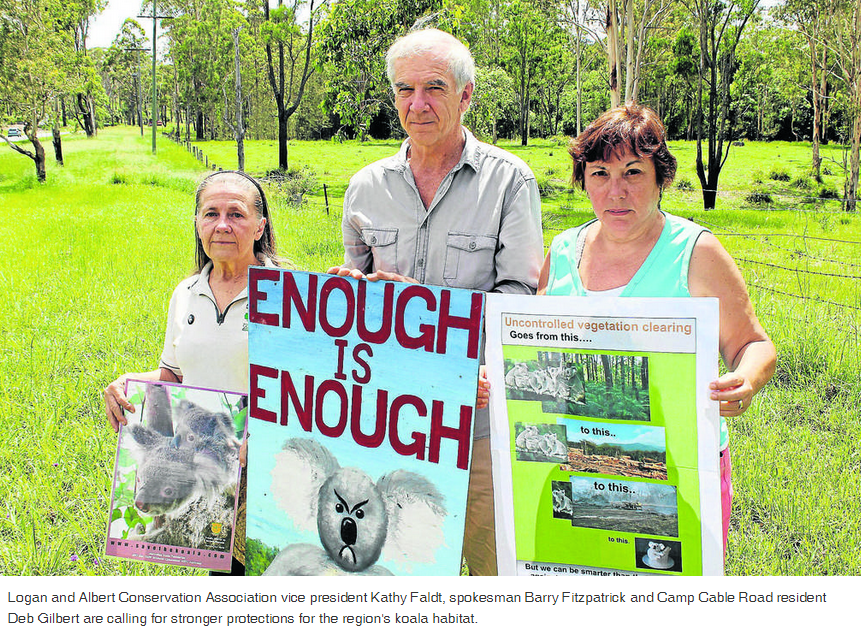 Jessica McKenzie journalist from Jimboomba Times met with us last week to discuss our major concerns for conservation values and protection and how
our voting choices will impact them. Edition for 14 January of Jimboomba Times covers State Elections 2015.
Click on title above to read article in paper.
LOGAN conservationists are calling for state election candidates to back greater protections for koala habitat in the region. Logan and Albert Conservation Association (LACA) spokesman Barry Fitzpatrick said koalas were seriously threatened by recent changes to vegetation management laws in Queensland."LACA is very concerned that the Newman government's rollback of vegetation management laws has seriously set back any effort to protect the koala," he said."
LACA seeks candidates' commitments to restoring vegetation management laws, at least to their former level, if koalas are to have any long term chance of survival in the Logan and Scenic Rim regions." Mr Fitzpatrick said he did not believe the offset provisions in the new laws would benefit koalas.
"LACA views the offsets as a facade policy designed to create the appearance of something being done," he said."
Rather than provide secure habitat for koalas it facilitates the rapid removal of essential habitat, with the vague promise of planting some trees elsewhere."
The group also took aim at the LNP's plan to lease public assets, including electricity distribution businesses Energex, Ergon and Powerlink."
LACA asks all candidates to commit to abandoning the privatisation of essential public assets, such as electricity and water supply, and support the uptake of renewable energy."
More later about vegetation clearing and offsetting..