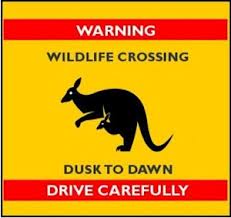 Latest update from RSPCA about
Logan Wildlife Ambulance.
The setup of the Logan Wildlife Ambulance is well underway. A core group of 23 dedicated volunteers have been recruited and have completed their RSPCA volunteer orientation. As soon as the ambulance vehicle is delivered the on-road training of the volunteers will begin - only a week or 2 away now. The volunteers and the RSPCA are looking forward to making a difference to the sick, injured and orphaned wildlife in and around the Logan Shire. At this stage we are not actively recruiting more volunteers but if you are interested in volunteering then please email This email address is being protected from spambots. You need JavaScript enabled to view it. and we will contact you to discuss your help in the future. Orientation sessions will be held again in the new year.
Stay tuned for updates....
The sign above is a special request / reminder especially during spring when animals move about to find mates and when young need to find their own patch to call home.
DRIVE AWARE for health and well being of all creatures - from humans to rescuers, birds bees bats reptiles frogs, possums and many more.
Wildlife is at risk on all roads - whether signed or not.
Lets all stay safe as the Christmas season approaches and possibly consider a gift that supports wildlife and its precious habitat that we all share.