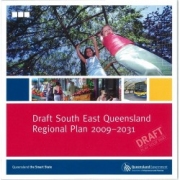 The Scenic Rim Regional Council has placed its 2009 submission to the Draft SEQ Regional Plan Review dated 30 March 2009 into the public domain. Since citizens now have an extended opportunity to comment on draft SEQRP until1 May 2009 you may wish to read and consider making your own new or revised submission. Read and download SRRC submission from this page.
Documents on that page include
Submission to the SEQ Regional Plan Review - 5 September 2008

Submission to the Draft SEQ Regional Plan Review - 30 March 2009

Submission to the Draft SEQ Regional Plan Review: Attachment No.15 
Attachments on Warrill View
SEQ Regional Plan Review (Appendix - Warrill View Investigation Area)

Warrill View Social Infrastructure Requirements

Warrill View Infrastructure Report

Warrill View Final Report - 2 September 2008
Your Views
You can help shape the future of the Scenic Rim Region. Council, together with the State Government, is planning for the future and you're invited to be part of that process. Local and state government say they want to know what is important to you and your community. Contributing your views and knowledge will help them strike the right balance of environmental, economic and social elements in our planning - but only if you communicate with them. Large investors, developers and property councils are certainly talking with government.
WHAT IS YOUR VISION FOR YOUR COMMUNITY?
HAS GOVERNMENT HEARD WHAT YOU SAID? AFTER ALL PLANNING IS MEANT TO protect natural and cultural assets for the area.
Do you want the BROMELTON SDA urban footprint increased? Comment on this request in Council's submission.
Who is going to benefit from adding in 4000ha of new urban footprint at Warril View?
Do these proposed changes meet the criteria for ecologically sustainable development ?