Brett Raguse MP Federal Member for Forde launched the inaugural Forde Queensland Day Awards.

Logan and Albert Conservation Association LACA was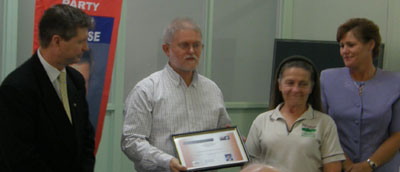 nominated for the 2008 Forde Queensland Day Awards -  in the Community Group of the Year Category and LACA has been successful.
Brett Raguse presented certificates at the Forde Queensland Day Awards ceremony  Friday 6 June in Beaudesert at the Old Bank Building, Brisbane St. CONGRATULATIONS TO ALL THE MEMBERS of our local envirvonment centre and community group for your dedication to actions to achieve better environmental outcomes.
Left to right: Brett Raguse MP, Andy Grodecki President LACA, Kathy Faldt and Jennifer Sanders.
Congratulations to other community groups and individuals whose contributions were also recognised by our local federal minister.
Beaudesert Times story appears below.
MEMBER for Forde Brett Raguse presented the inaugural Forde Queensland Day Awards in a ceremony in Beaudesert on Friday. Nineteen organisations and individuals living and operating in the Forde electorate were recognised in the awards. Tamborine Mountain Landcare was named environment community group of the year while Jymbilung House was named indigenous services community group of the year.
Logan and Albert Conservation Association was named conservation group of the year with Caddies Community Care Centre in Jimboomba named community group of the year. Lucy Banu won indigenous Queenslander of the year with Lekh Ram Sukh named multicultural Queenslander of the year. Beaudesert Rotary president Albert Pryer, Cancer Council Queensland Jimboomba branch member Ada Banks and Christine Johnstone each received community spirit awards. Tom Childs and Richard Hetherington were named veteran Queenslanders of the year.
Vanessa Devine and Colin Nelson were named Young Queenslander and Queenslander of the year respectively. Mr Raguse also presented awards to Roland Lindenmayer and Eve Curtis, who he dubbed Forde Greats 2008.
"To get our community recognised it is also about recognising people in the community who are doing wonderful things," Mr Raguse said. "There are so many people in the community who are doing things in the community for a whole range of issues such as the environment and housing and these people just don't get that recognition."
The Beenleigh Court Support Group, youth service On The Edge and Eagleby Garden Club also received awards.