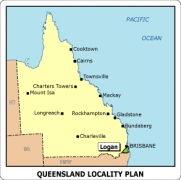 DO YOU KNOW ABOUT THE DEVELOPMENT PLANNED FOR YOUR LOCAL AREA?
SEE OUR ADVERTISEMENT HERE 
 laca_ad_submissions_seqrp.pdf 58.67 Kb 15/03/2009, 22:48
Dear Resident,
In 2004, the South-east Queensland Regional Plan (SEQRP) was released by the State Government to plan development and growth in South-east Queensland. The plan declared the Mt Lindesay North Beaudesert area as an investigation area. In October 2005, a plan considering the development and urban footprint for the Mt Lindesay North Beaudesert area was released to the public for community comments and amendments were made to the 2004 SEQRP . The South-east Queensland Regional Plan is intended to be reviewed every 5 years, and the plan is currently being reviewed (earlier than originally planned) and is now out for another round of community consultation that closes on 3rd April 2009.
In the Mt Lindesay North Beaudesert area, the SEQRP includes large developments proposed for
1. Park Ridge - urban, commercial, industry, enterprise precinct
2. North Maclean - light industry and offices
3. Greenbank - urban with high density living, transit oriented communities
4. Flagstone - urban, plus others
5. Yarrabilba - urban plus others
6. Chambers Flat/Stockleigh/Jimboomba - Southern Infrastructure Corridor (rail/road)
7. Browns Plains/Park Ridge South/Chambers flat/ Stockleigh - Proposed Gateway Motorway Extension
8. Bahrs Scrub - urban growth

The development proposed for the areas 1-8 above are the same as they were 4 years ago .
Submissions / letters expressing your points of concern or support for what is proposed are due by 3 April 2009.
Here is the link for the South East Queensland Regional Plan.
See especially part C
Identified growth areas were previously called INVESTIGATION AREAS. They still require investigation for ways to include them in the URBAN FOOTPRINT in the future.

p 3 - section on identified growth areas
p 4 map with North Maclean and others shown as identified growth areas
p14 Logan issues - refers to Park Ridge, Greenbank, Flagstone, Yarrabilba
p15 Logan issues - identified growth areas - Flagstone, Greenbank New Beith, North Maclean
p 18 Scenic Rim matters
This document is long, but don't let that put you off - go to the maps in the document and see what development is proposed and then take a look at the text on pages before and after these maps to speed up the process for you. A hard copy of the SEQRP may be obtained by contacting the Department of Infrastructure and Planning. There may be a copy at your local council library or Logan City Council administration centre. Give them a call.

How to Make a Valid Submission?
1. Include full contact name and address
2. Include the signature of the submitter
3. Send to 
Draft SEQ Regional Plan
Dept of Infrastructure and Planning
Reply Paid 15009 City East
Brisbane QLD 4002
The community has every right to communicate their concerns or support for the SEQRP proposals and deserve fair representation.
We would like to encourage YOU as local residents to communicate any concerns YOU have to YOUR state members (current or campaigning)
John Mickel (Logan ALP) ph 3806 8513
Jamie Brown (Greens candidate Logan ) This email address is being protected from spambots. You need JavaScript enabled to view it.
Tristan McLindon LNP

or your local mayor and councillors (3 councillors are responsible for the North Maclean area)
1. Mayor Pam Parker
Phone: 3412 5218
Mobile: 0411 869 116
Email: This email address is being protected from spambots. You need JavaScript enabled to view it.

2. Cr Lynne Clarke
Phone: 3412 5507
Mobile: 0411 869 115
Email: This email address is being protected from spambots. You need JavaScript enabled to view it.

3. Cr Hajnal Ban
Phone: 3412 5511
Mobile:0411 869 027 or 0403 188 514
Email: This email address is being protected from spambots. You need JavaScript enabled to view it.

4.Cr Phil Pidgeon
Phone: 3412 5509
Mobile: 0411 869 109
Email: This email address is being protected from spambots. You need JavaScript enabled to view it.

5.Cr Cherie Dalley (Chair of Planning and Development)
Phone: 3412 5508
Mobile: 0411 869 117
Email: This email address is being protected from spambots. You need JavaScript enabled to view it.
Hard copies of the official state regulatory government maps can be viewed by going to Logan City Council reception (or your local council) and request to see "hard copy regulatory maps supporting the Draft South-east Queensland Regional Plan" .

Logan and Albert Conservation Association members visited Department of Infrastructure and Planning and spoke with Cathy Anstey Senior Urban and Regional Planner  for Department of Infrastructure and Planning Queensland Government (tel 07 3247 5409 (xt 75409) fax 07 3235 4071)
Visit at Level 1, 63 George Street Brisbane or email/phone  This email address is being protected from spambots. You need JavaScript enabled to view it. to request a copy of regulatory Map 24 if you want to comment on the areas listed above. This map contains cadastral data [streets are shown] not just a coloured blob on the map.The book does not include a map of North Maclean area.
COME ALONG TO THE WORKSHOP 14 MARCH 2009 CHAMBERS FLAT COMMUNITY HALL. See events page for more details.