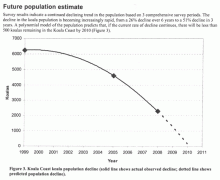 IMPORTANT ACTION TO HELP KOALAS IN SOUTH EAST QUEENSLAND especially the Koala Coast koalas in Redlands and Logan.
The advertisement below appeared in The Australian, Courier Mail, Sydney Morning Herald, Canberra Times, The Age and the Adelaide Advertiser last Saturday 6 June 2009.
Public comment invited
Submissions close COB Wednesday 5 August 2009
National Koala Conservation and Management Strategy
People interested in the management of koalas or koala habitats are invited to have their say on the draft National Koala Conservation and Management Strategy 2009-2014.
The strategy will outline the actions required over the next five years to conserve koalas and their habitat.
Information gathered through the public comment period will be used to make further updates.
The national strategy is being developed jointly by the Commonwealth, states and territories through the Natural Resource Management Ministerial Council.
More information and a copy of the draft strategy can be found at http://www.environment.gov.au/biodiversity/publications/koala-strategy
The koala is an important part of Australia's natural and cultural heritage. The koala is suffering declines in some parts of Australia and according to the federal government website ,management issues vary significantly from region to region. There is a clear need for a strategic approach to the conservation and management of koalas to maximise the effectiveness of conservation efforts. Koala Coast koalas are experiencing such severe threats to their survival their very continuing existance is of major concern. If current popoualion decline continues, the iconic koala in the bush will be extinct in areas of South East Queensland - from their supposed core habitat areas.
The first National Koala Conservation Strategy was released in 1998, aiming to conserve koalas by retaining viable populations in the wild throughout their natural range. In 2006 the Natural Resource Management Ministerial Council agreed to review the strategy. The full results of that review can be found here: Review of Progress in Implementing the 1998 National Koala Conservation Strategy. The principal finding of the review was that that the aims and objectives of the strategy were sound, but they were not implemented effectively.
The Department of the Environment, Water, Heritage and the Arts has contacted us directly to invite us to comment on the draft National Koala Conservation and Management Strategy, as indicated above.
Submissions close COB Wednesday 5 August 2009
To send submissions, or for further information,
email: This email address is being protected from spambots. You need JavaScript enabled to view it.
or fax to: 02 6274 1600
or post to: Species Listing Section
Wildlife Branch
Department of the Environment, Water, Heritage and the Arts
GPO Box 787
CANBERRA ACT 2601