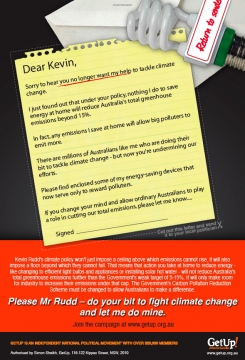 Getup current campaign alerts all citizens to this rather anomalous situation. Millions of ordinary people are taking personal actions to reduce their energy use and greenhouse gases.
Under the proposed scheme to reduce emissions 5-15%, the other aspect is that the big polluters will be able to increase emissions.
GetUp National Director Simon Sheikh through questions asked of the Department of Climate Change and the Commonwealth Treasury presents this information.
Target Range:
The Government?s household support package, its industry support package and the carbon price it is using are all based on a 5% target. So while they are attempting to package this up as a 5-15% target range, they are in actuality locking in a meaningless 5%. The Government did not, as expected, leave the door open to a 25% target. The target can ONLY be changed AFTER 2020.
Impact of the target range:
The target range will derail any global deal that would save the Murray Darling Basin, Kakadu and the Great Barrier Reef. It will hold back the growth of green industries and will not lead to significant rises in investment in renewable energy industries on our shores.
Clean green jobs and investment will flow to countries with more ambitious targets, at a time when Australia needs all the investment it can get.