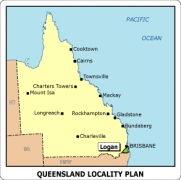 Debbie Best Deputy Director-General Department of Natural Resources and Water encourages interested parties to make a submission if they have any issues they wish to raise in regard to the finalisation of this draft plan.
The draft plan is available for public comment and feedback. All submissions, properly made by 5pm, Friday 20 February 2009 will be considered by the Chief Executive of the Department of Natural Resources and Water (the department) prior to plan finalisation. A submission form is included with in the summary document. In accordance with the water resource plan, the Logan Basin Resource Operations Plan will initially deal with priority area 1, which is the area of the Logan River Water Supply Scheme. Subsequent amendments to the resource operations plan will occur to deal with other parts of the plan area including Moreton Bay Islands.
You can obtain a copy of the draft plan by contacting the department on 1800 308 252, by emailing This email address is being protected from spambots. You need JavaScript enabled to view it. or by visiting the department's website at: www.nrw.qld.gov.au/wrp/logan. Please see the link to the public notice.
Community conversations were recorded at pubic information sessions on the notice of intention to prepare a draft amendment to the Water Resource (Logan Basin) Plan 2007 (to include southern Moreton Bay). Copies of the documents can be downloaded from here.
You can also download a detailed Logan water planning area map (PDF, 128 kB) and newsletters.
Alternatively, you can submit an online submission on the department's website at: www.nrw.qld.gov.au/wrp/logan.
Checklist
Please follow these five steps to ensure the submission is completed correctly:
? The name of the person(s) making the submission and a postal address has been included.
? The submission form has been signed by the person(s) making the submission.
? The grounds for making the submission, and the facts and circumstances relied on in support of the submission have been stated.
? If additional space is required, the box at the end of the submission form has been ticked and the detailed submission is attached.
? The submission is made and sent by the closing date, 5.00 pm on 20 February 2009.
Post, fax or email this form and any attachments to:
Chief Executive
Department of Natural Resources and Water
(Attention: Sueanne Langbein)
Water Services (South) South East Region
PO Box 1653
Coorparoo DC Qld 4151
Fax: (07) 3224 2933
Email: This email address is being protected from spambots. You need JavaScript enabled to view it.
Telephone enquiries: 1800 308 252