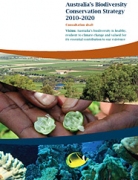 If you would like a hard copy of Australia's Biodiversity Conservation Strategy 2010-2020, please use the order form available here or you can download a copy here.
A Working Group has proposed a national approach to deliver a range of cost-effective national actions to reduce the impact of system-wide threats that are underlying causes of decline in biodiversity.
The approach focuses on three system-wide threats to biodiversity, where existing responses should be enhanced and where national scale attention is needed for new actions:
Drivers of loss of habitat values and decline in ecosystem function [ major issue for koala survival]
Spread of invasive pests, weeds and diseases
Climate change impacts on biodiversity.[major issue for koala survival]
 CLOSING DATE FOR SUBMISSIONS 29 MAY 2009

The approach identifies the highest priority actions, actions that maintain natural systems, actions that advance ecologically sustainable natural resource management, actions that will improve institutional frameworks for delivery, and actions that will embed biodiversity conservation into the economic and social fabric of Australia. Twenty-six actions have been identified to address the three system-wide threats.
Full details about making your submission online and a suggested submission response form is available here at https://www.nationalbiodiversitystrategy.com/ or you can use your own format.
Please email, post or fax completed form to:
National Biodiversity Response
PO Box 1715
Tamworth NSW 2340
Fax: 02 6766 7333
Email: This email address is being protected from spambots. You need JavaScript enabled to view it.
Hotline: 1800 990 192
If you require assistance phone 1800 990 192 or email This email address is being protected from spambots. You need JavaScript enabled to view it.