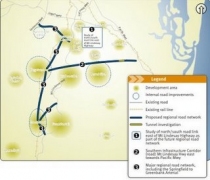 Cardno Eppell Olsen are the consultants for the Mt Lindesay/Beaudesert Strategic Transport Network Investigation which aims to determine the long term (50 years) transport needs in the Mt Lindesay - Beaudesert area. The study investigates potential future land use scenarios and assesses transport system options for the future. The study recommendations will be used to guide future planning for the area.
This study by the Department of Transport and Main Roads is looking at the longer term transport needs of the Mt Lindesay/Beaudesert region over the next 50 years and will identify the strategic level transport options required to support the expected growth in the area. The findings will help state and local governments plan now for the delivery of future transport networks.
The draft report can also be viewed at the following locations until 12 June:
• Beaudesert QGAP;
• Logan City Council Customer Service Centre;
• Scenic Rim Council Office (Beaudesert)
• Greenbank, Jimboomba, Logan Village and Logan West Libraries.
Public comment and submissions on the draft report are invited until 12 June 2009 and will be considered in the final report.
Read the draft investigation study at the website www.mtlindesaybeaudeserttransportstudy.com.au. You may request a copy on CD.
The study can be downloaded as 14 chapters. The feedback form is an interactive PDF. You can either fill it out online and submit it tby email, or print it out, fill it in and post to the address below. Click here for the form.
For more information, please phone 1800 442 286, Reference Number is MLB5519 and contact is Jerryn Zwart.
Email This email address is being protected from spambots. You need JavaScript enabled to view it.
Write:
Mt Lindesay Beaudesert STNI Project Team
C/- Cardno Eppell Olsen
Reply Paid 84234
Fortitude Valley Qld 4006