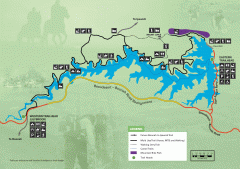 Members of the community have until 22 July 2009 to comment on Draft Recreation Master Plan for the Wyaralong Dam Project . More details are available in Beaudesert Times for 8 July 2009.
According to Queensland Water Infrastructure Pty Ltd, QWI, they have been working with such key stakeholders as
Local groups and governing bodies for independent recreation (e.g bushwalking and orienteering), cycling, water sports and the equine community
Schools and outdoor education providers
Scenic Rim Regional Council
Tourism Queensland
Queensland Outdoor Recreation Federation
Sport and Recreation Queensland
Department of Infrastructure and Planning
The web page http://wyaralongdam.com.au/AboutProject/RecreationMasterPlan.aspx has links to download the plan and also a high resolution map.
Comments may be emailed to This email address is being protected from spambots. You need JavaScript enabled to view it.&New=Yes','Compose',800,600,'yes');">This email address is being protected from spambots. You need JavaScript enabled to view it. 
or posted to
PO Box 15940
City East
Qld 4002
For further information, please contact Queensland Water Infrastructure Pty Ltd: Phone: 1800 225 384 Facsimile: 07 3406 7292
Make your submission count
A properly made submission must:
be made on or before the closing date of 22 July 2009
include the name and address of the submitter
be signed by the person making the submission