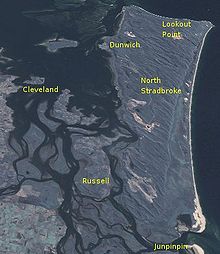 Mark Robinson State LNP member for Cleveland (Queensland) has provided you an opportunity to highlight your support for the creation of a National Park on North Stradbroke Island. The survey does seem to indicate there is a lack of interest in the National Park idea and more interest in allowing mining to continue.
QCC Queensland Conservation Council and LACA Logan and Albert Conservation Association believe sandmining must stop. We believe everyone in Queensland should let the member know how they feel and please also send a strong message that we desire 80% of the island in National Park and we desire it sooner rather than later. Sand Mining must stop now! Sand left after mineral processing should be used for rehabilitation and not sold off.
Free postage is included on printed survey.
Download and print the survey here.
north-stradbroke-island-have-your-say.pdf 252.00 Kb
The survey asks you to indicate your level of agreement to the following questions / statements
[Strongly agree - Agree - Undecided - Disagree - Strongly Disagree]
The premier's plan to stop sandmining by 2027 is a good plan
Continue to read the questions on line
Sandmining should be stopped earlier than 2027
Sandmining should be allowed to continue as long as land is properly rehabilitated
Sandmining should be allowed to continue as long as high value koala land is not destroyed
Sandmining should be allowed to continue in old-growth forest areas
The use of excess sand after mining to provide cheap sand and jobs in the construction industry of South East Queensland is a good thing
The premier's plan to turn Straddie into 80% National Park is a good plan
A plan that provides 50% National Park and allows mixed economic activity and conservation on the remaining 30% is a good alternative plan
The indigenous people are fairly compensated for their native title claim in the premier's plan
The premier's plan for indigenous groups to co-manage the National Park is a good step
The direct and indirect job losses resulting from stopping sandmining will cause economic problems for the island
The premier's plan to create 400 eco-tourism jobs to replace job losses is believable
The premier's eco-tourism plan will generate sufficient income to replace the economic from closing sandmining
Prior to the premier's announcement I was sufficiently consulted about her decision
IN SUMMARY, I support the premier's overall plan for the island