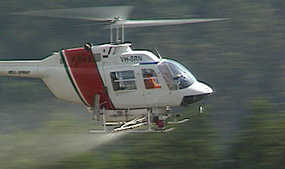 ABC online news provides coverage of the issues surrounding use of agricultural chemicals across Australia. Our local area is not alone with these concerns. The Tasmanian forestry industry has described proposed changes to chemical spray regulations as a knee-jerk reaction to please a vocal minority. Buffer areas and prior notification, no go zones near schools homes and workplaces may become mandatory. Time to comment has been extended to end July 2008. Read more here. Image from ABC TV file photo.
The following stories allow the reader to explore the topic further. Tasmanian farmers and foresters are not happy with planned restrictions to chemical spraying. Read more here. Vapour drift from chemical spraying has damaged more than 50 hectares of vines in the Wrattonbully wine region in the south-east of South Australia. It was reported that the breach of chemical use is disappointing and worrying. The story is here.
The Tasmanian government is planning to restrict  chemical spraying and the proposed new regulations which include water quality standards to limit the contamination of drinking water. The changes are open to public comment until the end of next June 2008.
It is important for community confidence to have outcomes of investigations reported for the general public to access. One pilot was fined for spraying a motorist. Read about it here.  One of the news articles reports that the company made the decision to exclude the option for aerially spraying in any future works   
as   " community concern was too great to ignore."
A Consultation Paper and draft Regulations have been produced as part of the review of the provisions for aerial and ground spraying of agricultural chemicals. Comments are invited from interested parties and must reach the Department by close of business, Monday 28 July 2008. The two documents Aerial and Ground Spraying Consultation Paper and Agricultural and Veterinary Chemicals (Control of Use) Regulations 2008 are available from this webpage as is the  paper ASCHEM Council Recommendations which is not for public comment but may be used as a reference as you read the draft "Agricultural and Veterinary Chemicals (Control of Use) Regulations 2008" and accompanying "Aerial and Ground Spraying Consultation Paper".
It is interesting to note that the Tasmanian government has placed some restrictions on the use of 2,4-D herbicides because some formulations of 2,4-D are quite volatile and there is a risk that vapour may drift off-target posing a potential risk to highly susceptible non-target areas. That document is available here. There is also a current Code of Practice for Aerial Spraying which you can access here. 
Two points of interest for the pilot are
Your spraying must not adversely affect any people, plants, stock, produce, waterbodies, groundwater or soil outside of the target area unless you have obtained prior permission from the owner of the premises that may be affected by the spraying. As a minimum you must comply with label directions. (In the absence of specific label directions, it is recommended that you should not spray within 50 metres of any waterways or water bodies if there is no wind or if the wind direction is towards the water. If the wind direction is away from the water, you should not spray within 10 metres of the water. These distances are provided for guidance only and may not be sufficient in all circumstances).

You are responsible to ensure that all criteria for a safe and successful spray application are met. This responsibility includes deciding whether or not a spray operation should begin or be discontinued.