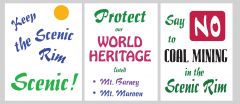 The human-health-impacts community forum held in Beaudesert Friday 18th March was well attended by local community . The main speaker was Dr Dick van Steenis a UK Public Health Advocate. His research looks at the health effects of particulate-generating operations such as power stations, rubbish incinerators and open cut coal mines. It was quite stark information on the many health effects these industries can have on communities let alone the damage it does to the environment. The seeming indifference of governments when all they want to see is the almighty dollars that are forthcoming.
The challenge now is for the community to do its homework - not been done by government - and prove that the decrease in human wellness and loss of income from a national tourism industry and Australia's Green Cauldron
There was a good turn out of residents concerned about these leases and after listening to the speakers there is definitely a need to worry and a need for continued action to try and prevent any exploration from going ahead in the Scenic Rim.
To keep in touch support and particiate visit http://www.keepthescenicrimscenic.com/ Contact the team at Email: This email address is being protected from spambots. You need JavaScript enabled to view it.
WE ALL NEED TO VOICE OUR CONCERNS TO ALL POLITICIANS AT ALL LEVELS AND
MAKE A STAND TO PROTECT WHAT WE VALUE
As Dr Dick van Steenis says we need CLEAN AIR - CLEAN WATER - CLEAN FOOD to maintain our health and wellness.
LACA meets this Thursday 24th March 7.30 pm at Arts Centre Beaudesert. Check website www.laca.org.au