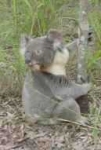 The draft South East Queensland Koala State Planning Regulatory Provisions came into effect on 12 December 2008.  The Department of Infrastructure and Planning is now the concurrence agency under the Integrated Planning Act 1997 for defined development in Urban Koala Areas and in Koala Sustainability Areas that are within the Urban Footprint as defined in the South East Queensland Regional Plan 2005-2026. 
You can download a copy of draft SEQ Koala SPRP from this page 128kb pdf and copies of regulatory maps are here. Unfortunately there is no mapping - and no protection for country Logan (former Beaudesert Shire) and Scenic Rim areas. A list of future growth areas includes Bahrs Scrub, Beaudesert, Bromelton, Canungra, Flagstone, Greenbank, Park Ridge, and Yarrabilba - none of them mapped ie with some protection.
You can find out if your property is within the Urban Footprint by using the Department of Infrastructure and Planning interactive mapping tool at
http://www.dip.qld.gov.au/regional-planning/land-use-categories.html
The regulatory maps for SEQ Koala Habit regulatory maps are available here.
Please contact the Department of Infrastructure and Planning regarding assessing applications within the Urban Footprint at www.dip.qld.gov.au or
Department of Infrastructure and Planning
Southern Region Planning Group
Postal address: Reply Paid 15009 City East
Brisbane Qld 4002
By fax: + 61 7 3235 4071
By email: This email address is being protected from spambots. You need JavaScript enabled to view it.
All enquiries phone: Free call 1800 070 609