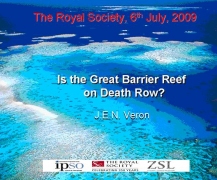 On the 6th July, 2009, the Royal Society, the Zoological Society of London and the International Programme on the State of the Ocean facilitated a Coral Reef Crisis meeting to identify key thresholds of atmospheric carbon dioxide needed for coral reefs to remain viable.
The meeting consisted of a workshop and a presentation by Dr John "Charlie" Veron, introduced by Sir David Attenborough. There is a powerpoint presentation available for download from and you can view the 61 minute presentation from here.
 http://royalsociety.org/page.asp?id=3093#
Charlie Veron is best known as the author of the three volume Corals of the World. He is also the senior author of the major electronic products Coral ID and Coral Geographic. Veron is the author of 100 scientific articles, including 14 books and monographs, on subjects ranging from climate change, molecular biology, palaeontology, coral identification, biogeography, coral reefs, conservation, marine science policy, marine science history, cell biology, reptilian physiology and biography. He is former Chief Scientist of the Australian Institute of Marine Science. He has discovered and described 20% of all coral species of the world. He has worked in all the major coral reef regions of the world, participating in 66 expeditions and spending 7,000 hours scuba diving.
He continues to work in many different fields although he now concentrates on conservation and the effects of climate change on coral reefs. 
Download or access the presentation from this link. http://www.coralreefresearch.org/html/crr_rs.htm
Charlie Veron is also a contributor on this CLIMATE CHANGE PORTAL. See his reef coments here. http://www.climateshifts.org/?p=151