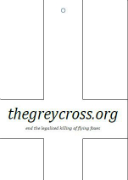 Many of us are easily persuaded that our safety and wellbeing requires that some species that 'threatens' us must be removed permanently.
The sensational language and looseness of facts seen in most media encourages that fear. We need to respect all species and appreciate that humans are not the prey.
Man's wellbeing depends on having a healthy and respectful relationship with all species whose habitat we share. That may be sharks in the ocean, dingoes on Frazer Island, flying foxes in local trees and forests, bees pollinating fruit and flowers, our domesticated dogs sharing our homes and neighbourhoods, and the many microbes which live inside the human body.
Queensland is currently suffering legalized shooting of flying foxes - when done humanely? How inane it to believe or accept that shooting is not cruel. Throughout Queensland and globally many groups have called for all political parties to commit to protecting our flying foxes. Read the statement here.
An Australian study has shown that most bats shot don't die immediately. The majority take hours and sometimes days to die. During that time they are in severe pain due to the damage inflicted by the shotgun pellets. Dependent young will also die slowly of starvation over the next few days. Download PDF. NSW and Qld legislation says that causing an animal to die in pain, or in a way that is not quick, is animal cruelty, yet both states still issue permits that allow these bats to be shot.
Do you want to protest this and other animal cruelty? Click on image above for a template to make a grey cross. Read about the campaign and participate however you can. Details at this website http://www.thegreycross.org/index.html.
Are there alternative methods for farmers to protect fruit crops?
According to a member of the Australian Custard Apple Growers Association, appropriate netting was both cost and profit effective. No harm is done to bats, birds or possums. Read the profitabilty and best practice report here.
Share your comments, photos, ideas via social media at https://www.facebook.com/DontShootBats and any others you use. Contact the campaign team http://www.thegreycross.org/contact-us.html
Interesting that EHP department publishes information about the importance of flying foxes eg Flying-foxes are crucial to keeping native forests healthy