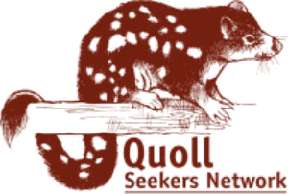 Quolls are endangered nationally and need our help! Sightings have been received from the Jimboomba / Logan area as well as other areas of former Beaudesert - Greenbank, Park Ridge and more. This is an opportunity to come along and find out if quolls really do live in your area, and what you can do to help them.
Sunday 5 August 10am – 1.00pm at Caddies Community Care Centre 19-33 South Street, Jimboomba
Leading quoll researcher Dr Scott Burnett will give presentations and answer questions about quolls, threats to their survival and what can be done to prevent these animals from becoming another extinction statistic.
Come and meet a live spotted-tailed quoll courtesy of Martin Fingland from Geckoes Wildlife Presentations.
RSVP: 31 July 2012 to This email address is being protected from spambots. You need JavaScript enabled to view it. or phone Alina at Wildlife Queensland on 3221 0194.
Logan and Albert Conservation President Anne Page has been collating and reporting sightings of quolls for several years. A reported sighting is always followed up to confirm veracity of sighting. Two road kill about 2005 were first sightings for 70 years.
These cryptic nocturnal creatures cover wide ranging bushland areas to feed and breed. Their continued existance is threatened by loss of habitat - clearing for development and roads and our road traffic.
Come along and learn more to help save them from local extinction.