2010 SPOTLIGHT ON WILDLIFE IN SCENIC RIM  - series of community workshops sponsored by SRRC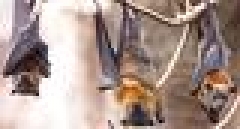 To help celebrate the 2010 United Nations International year of Biodiversity , the Logan and Albert Conservation Association will be hosting a series of free public workshops entitled 'Spotlight on Wildlife in the Scenic Rim'. The workshops have been funded through a Community Environment Assistance Grant from the Scenic Rim Regional Council.
The first 2010 WORKSHOP will be held in Canungra where there is a significant colony of bats and where recently there was a crisis to save the babies after a storm devestated their usual bat family nursery habitat. The workshop will help us all to become more aware of the signifigant contributions this family of flying marsupials makes to our shared environment and how we can all live safely and harmoniously together.
The Canungra workshop will include guest speakers Louise Saunders from Bat Care Brisbane Inc, Janet Gamble from the wildlife section of the RSPCA and local zoologist Ronda Green.
Each workshop will focus on different wildlife. Other workshops will be held throughout the year at Peak Crossing, Beaudesert and Mt Barney.  The aim of the workshop is to increase community awareness about the importance of wildlife in our environment and to give people an opportunity to have some of their questions about different wildlife answered.
One of the best outcomes of the previous koala workshops was people reporting koala sightings and continuing to report them since. We hope to collect more information about local wildlife sightings during these workshops in 2010.
To RSVP or for more information about the workshops, please contact Anne ph 3297 0624 or Kathy 3200 0129