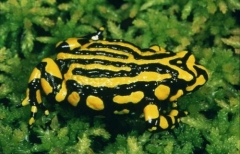 Although the Corroboree Frog is not a species found in our local biodiversity, all plans for its recovery and survival are applauded by us.
Efforts to save one of Australia's most recognisable frogs, the Corroboree Frog, from extinction were boosted with the launch of the Corroboree Frog Conservation Trust Fund.
Minister for the Environment, Heritage and the Arts, Peter Garrett, officially launched the Trust at the Wonga Wetlands Education Centre on the Murray River near Albury.
Many Australians know Corroboree Frogs by their bright yellow and black markings. Sadly, the Corroboree Frog is seriously threatened with extinction and preservation efforts are at a critical stage.
The Trust is an environmental charity, which Minister Bowen and Minister for the Environment, Heritage and the Arts, Peter Garret thave listed with the Register of Environmental Organisations, so all donations to it are tax deductible.
Everyone who wants to help preserve Corroboree Frogs will now have one point of access to make donations and learn more about Corroboree Frogs.
Already the Trust partners are working together to deliver a national recovery program:
the Australian and New South Wales Governments have funded scientific and community engagement activities;

Taronga Zoo, Zoos Victoria and the Amphibian Research Centre are breeding Corroboree Frogs to maintain existing genetic variation and to supplement existing populations; and

the NSW Department of Environment and Climate Change continue to research and monitor Corroboree Frog populations to guide future recovery activities.