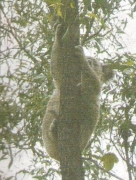 The Australian Koala Foundation (AKF) has warned the Queensland Government's new koala habitat mapping project will expose the South East Queensland koala population to extinction.
AKF CEO Deborah Tabart  said the Queensland Government recently employed engineering consultants to undertake 'extensive' mapping of koala habitat in South East Queensland; mapping intended to assist in the species' protection. The project, worth nearly one million dollars did not go to tender, even though other consultants could have competed for the work.
"Sadly, the methodology is significantly flawed and will leave surviving koalas and habitat without any protection in this fast-growing region," Ms Tabart said.
The method involves the creation of a koala sightings dataset from which maps will be generated.
However according to AKF scientist Dr Douglas Kerlin, because koalas are tree-dwelling and occur over low densities, they are extremely difficult to observe.
"A survey method focusing on more permanent 'signs' of koala activity, for example droppings, would be much more thorough," Dr Kerlin said.
Ms Tabart is concerned about the implications of assuming areas of habitat are devoid of koalas using the koala sightings methodology.
"When you declare koala habitat to be empty, you open the door for land clearing for development.
"For instance in the Redlands, good koala habitat that is now empty has no chance of protection under this mapping methodology. It is ridiculous," Ms Tabart said.
"We have to ask - why is the Queensland Government creating a new methodology when a sophisticated, well-tested and far more accurate methodology is already on hand?"
Ms Tabart is referring to the AKF's largest and longest-running project; the Koala Habitat Atlas which is recommended as a basis for the accurate identification and mapping of koala habitat within both the New South Wales and Victorian State Governments.
"The Koala Habitat Atlas maps all biodiversity irrespective of land tenure," she said. "I think this scares the Queensland Government and explains why they manipulate and create new methodologies intended to confuse and sanitise the land."
"The ironic thing is that AKF could give them these maps tomorrow," Ms Tabart said.
The South East's koalas are just the beginning of Tabart's concerns. If the new Queensland mapping methodology goes on to be adopted as the national mapping standard for the National Koala Conservation Strategy, she fears koala protection will be impossible. "Habitats falsely deemed 'empty' and areas capable of recovery will be ignored."
The AKF is now calling on the Federal Government to assign the South East Queensland koala population 'Critically Endangered' status.
To find out ways to help the Australian Koala Foundation save our koalas, visit the website at www.savethekoala.com.