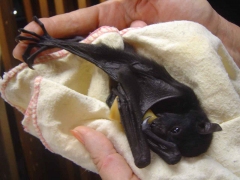 In the Redlands SE Qld area - please contact Patti Durnin home line 07 3821 0283 ORMISTON , QLD (Cleveland area) OPEN ALL HOURS
This is the designated depot for donations and supplies for the REDLANDS. Calls are welcome at any time.  Any and all donations are appreciated / supplies can be dropped off at the Durnin residence in Ormiston.  If this is not convenient - they are happy to arrange to collect items.  Details will be available for receiving money donations.
Mobile contact : Patti 0418 883 890 Steve 0428 883 890 
BUSINESS PEOPLE - come on board - these flying foxes are front line indicators of our world health and essential pollinators of many trees.
The situation is urgent - if your business can help - it would be very greatly appreciated !


The highly specialised teams of bat carers at Canungra are working hard day and night - feeding 200 grey bubs round the clock. Our carers desperately need help - we need VOLUNTEERS on hand to attend to general clean up duties - sterilizing bottles, feeding equipment and all extra duties that extra hands on board can do.
Our grateful thanks go to the many tired and very dedicated carers and volunteers who are attending to our wildlife.
More information about bat or flying fox care and rescue is available from these two organisations www.bats.org.au  and  www.batrescue.org.au. Further information and updates will be posted. There are also bats in trouble at Redlands and Gatton. Batcare Brisbane helpline is 3321 1228 and rescue 0488 228 134.
Thanks for any support you can provide. Towels, nappies, old sheets and soft face washers, Johnson Baby Lotion (in the pink bottle), soft cloths for gentle cleansing of babes - natural and non abrasive, environmentally friendly washing powder, cash donations for medication - all gratefully accepted.
DROP OFF POINTS in SEQ
Redlands - Patti Durnin - 0418 883 890
Kooralbyn - Pam Elliott - 5544 6762
Logan - Trixie Benbrook - 3207 3512.