How will the money be raised for this research?
The Government could draw up legislation tomorrow and force a levy on the industry of every horse registered but the president of the Thoroughbred Breeders' Queensland Association, Bob Frappell, has doubts.
Raising a levy of $20 or $25 for research onto every horse in the state is a very good idea  Mr Frappell said - but he doubts the practicality of it and whether the Government has got the will to impose it against people's wills because that is what it would take.
Is this such a big ask of the horse industry?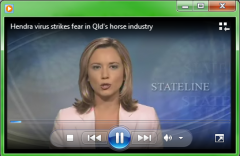 Stateline has a video available of its interview footage broadcast 28 August 2009 with reporter francene Norton - before the vaccine breakthrough was announced. What follows here is part of the transcript of that interview.
........ (FOOTAGE OF ANIMAL HEALTH LABORATORY)
FRANCENE NORTON: Behind the airtight security scientists work with some of the deadliest threats in the world. One of them is Hendra virus. Finding a pattern in the 12 known outbreaks in Queensland and northern New South Wales has been difficult.
DR LINFA WANG, CSIRO VIROLOGIST: So far we can only say that in the last three or four years it's an annual event and when it happens, it happens in twos so you always have two outbreaks, so one followed by the other. And even in 94 if you remember the first outbreak we detected was in September but actually before that in August of that year there was an exposure in Mackay as well. So even in 94 there were two independent what we call spill overs, that means transmission from bats to horses.
(FOOTAGE DR LINFA WANG AT CONFERENCE)
FRANCENE NORTON: CSIRO Scientist Linfa Wang is investigating the emergence and increasing frequency of lethal viruses in bats including Hendra, Nipah and SARS.
DR LINFA WANG: The trend of emergence of bat virus I think can at least be partly attributed to the destroy of the habitat. And also that the bat population is closer and closer to cities. And so in other nations like the SARS virus outbreak in China we believe that that's part of the reason.
FRANCENE NORTON: This loss of habitat has seen flying foxes in Australia become urban animals. In recent years there have been big moves east, west and south as they search for food. There are two camps of opinion on these emerging viruses. One is that bats are the most abundant mammals on earth next to rodents, so more bats means more viruses. The second thought is that bats may have something unique that allows them to happily co-exist with viruses.
Once they become stressed, that's when things change.
DR LES HALL, WILDLIFE BIOLOGIST: With flying foxes they're certainly under stress. some of them are threatened towards extinction and one of the results of that is that they shed these viruses.
FRANCENE NORTON: Some wildlife researchers, like retired biologist Les Hall, say flying foxes are being unfairly targeted, particularly since scientists still aren't able to prove beyond doubt the transmission from bats to horses. Dr Hall believes their vital role in pollinating plants and controlling insects is getting lost in the debate.
DR LES HALL: The current research is pretty blinkered. Like they're fixated on flying foxes and that's not a good strategy. They should be working from the horse out. It's the horse that causes the trouble. It dies it passes it onto humans. there's the centre for your infection. Now they should be working out and looking at other animals it's coming into contact.
FRANCENE NORTON: For now at least, scientists have their target. Teams in the US and France are researching therapeutic drugs to treat Hendra virus patients and it's showing promise.
DR PETER REID: Both teams have found that a couple of drugs that have been on the market for a long time, one chloroquine and the other hydroxychloroquine, which are both anti-malarial drugs have shown the ability to block Hendra virus and Nipah virus in the laboratory in cells so that's quite exciting.
FRANCENE NORTON: An American company has shown interest in funding a horse vaccine. But the biggest prize is a human vaccine and Australian scientists have a prototype. The problem is with three deaths it's not commercially viable. But what about a public good vaccine?
DR LINFA WANG: We believe we have a way to prevent or cure them, but we don't have a mechanism to deliver and so that's I think that, I hope the recent outbreak will trigger the rethinking and new approach from different levels of Government that come together and find a solution.
FRANCENE NORTON: It's not on the State or Federal Governments agenda at this stage. For the families left to deal with such a deadly disease it's a bitter pill to swallow.
JUNE WEBBER: Well I feel a little bit down because I think for 15 years something should've been done that's for sure. You know it's been a long time, it's not just happened just recently. it's 15 years so surely in 15 years something could've been done about it.
JESSICA van VONDEREN: And an international workshop on the Hendra and Nipah viruses will be held on the Sunshine Coast in October.