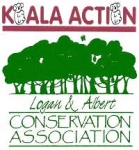 All levels of government need to place more value on conserving koalas and their essential habitat now in order for the koala species to survive in Australia. Dr Hanger from the Wildlife Hospital Australia  reports on the latest findings of a study University of Queensland have conducted the past year following the progress of 10 koalas which, up until their release, had never lived independently. This story is available from Sunshine Coast Daily Online. Read it here.
The Australian Koala Foundation and other conservation groups are very concerned about the longterm survival of the koala - our national icon. AKF called for an overhaul of the 1998 National Koala Strategy because it has "not helped the koalas" with over 25 000 recorded koala deaths since its inception. The media release is available here. Australian Koala Foundation also has an enewsletter which can be accessed from the same page.
Koala Campaigners is a recent strategy led by the Australian Koala Foundation to help you help the koala.
Simple things we can all do include
Email a letter to the Hon Peter Garrett AM, MP now! AKF have made it very easy for us. Go to this page now and two clicks can have a Koala Campaigner letter on its way.
The Hon Peter Garrett, MP has responded to the request to review the 1998 National Koala Conservation Strategy. Submissions for comment on this strategy closed COB Friday 25 July 2008 - an all too short time frame and not widely communicated opportunity for general community comment. Read this page for more information.
The submission from Logan and Albert Conservation Association can be read here. 
 nationalkoalaconservationstrategy_comment.doc
Although the animal the koala is protected by legislation in all States and Territories in which it occurs - its habitat and food source is not. On a national basis the koala is not yet threatened with extinction, however, there is no doubt that it is declining and NOW is the time to act, to ensure that this does not happen.
Brisbane City Council has now joined forces with Redlands and Logan councils to collectively manage a strip of land running along Redland Bay, Mt Cotton and Chandler, which is known as the "Koala Coast".
The area is home to about 11 per cent of the state's entire koala population, which used to number around 6,000but is now tipped to be as low as 4,600. Brisbane Lord Mayor Campbell Newman said the Koala Coast's size made collaborative action between the councils crucial. The decline has occurred even in supposedly protected areas.
Poor planning and poor road design, for example, placing new roads too close to koala habitat without exclusion fencing is still happening. This is totally unacceptable to those concerned with long-term survival of our native species.
Guidelines may be sufficient when outcomes are not crucial. Survival or extinction however is crucial and requires more than guidelines.