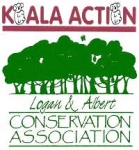 When your children ask you,
'What did you do to save the koala?' What will you say?
The koala is likely to become extinct in South-East Queensland unless the State government and local authorities act now.
A major cause of this devastating slide to extinction is avoidable loss of habitat: lost to
The Queensland Government has the power to make the decisions that will stop this loss.
Unfortunately, our government seems to be following a business as usual approach to providing habitat and infrastructure for humans - at the expense of essential habitat for koalas and all other species who co-exist within koalas habitat areas.
Redlands Mayor Merva Hobson and local MP Michael Choi have been actively involved in trying to protect the koala which is headed for extinction if we cannot have the legislation contained in the South-East Queensland Regional Plan changed to provided mandatory habitat protection.
You  can help by signing the online petition available here and also by taking any or all of these suggested action for individuals.
Please tell the Queensland government to make the necessary decisions to stop habitat destruction now.
Email the Queensland Minister for the Environment, Hon. Kate Jones.

This email address is being protected from spambots. You need JavaScript enabled to view it.

Copy your email to the Queensland Premier, Anna Bligh

This email address is being protected from spambots. You need JavaScript enabled to view it.

Copy your email to the federal Minister for the Environment, Peter Garrett or fill in online form http://www.aph.gov.au/house/members/memfeedback.asp?id=HV4
The power of the pen and letter writing is still a strong tool to use and is as influential as - or more so - than modern email.
What can you put in your letter or email?
Wildlife Queensland has provided up the figures and issues for the dramatic koala population loss -
What's killing koalas?
The greatest threat to the koala is loss of habitat. Every development in koala habitat moves the animal closer to extinction.
 An estimated 80% of koala habitat has probably been destroyed since European settlement. Most of the habitat that is left is private land - almost none of it protected in law
 Stress causes illness in koalas. Stress is caused by loss of habitat and subsequent overcrowding.
 Prime killers of koalas are dogs and roads - both of these threats become much worse when there isn't enough habitat.
What the Queensland Government must do
Change the SEQ Regional Plan (release date July 2009) to protect all remaining koala habitat - without exception - in South-East Queensland.
Acquire prime koala habitat for reserves
Plan that all the reserves are safely linked to allow koalas to travel
Prevent its own agencies from approving developments in koala habitat
Ensure local authorities do not approve development in koala habitat.
{back button}