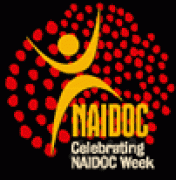 Today, NAIDOC is a celebration of Aboriginal and Torres Strait Islander cultures and an opportunity to recognise the contributions of Indigenous Australians in various fields.
Activities take place across the nation during NAIDOC Week in the first full week of July 5-12.  All Australians are encouraged to participate. Brisbane is the national focus city for 2009. The National NAIDOC Awards Ceremony and Ball will be held at the Brisbane Convention and Exhibition Centre on Friday, 10 July 2009.
The official NAIDOC website is here. 
Theme for 2009
The theme for NAIDOC Week in 2009 is Honouring Our Elders, Nurturing Our Youth. The theme encourages our communities to acknowledge the status of our Elders as leaders and role models for our youth.
Check out the interactive timeline for NAIDOC here. An important steo towards reconciliation was The Apology to the Stolen Generations. More information and relevant resources are available from this page.