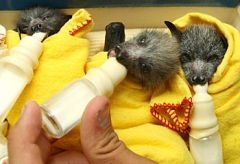 An appeal has recently gone to the general community from Wildcare whose members - registered wildlife carers - are desperate for help after storms caused grey-headed flying foxes to abandon about 300 babies in the Gold Coast hinterland. The Courier Mail published the story explaining that 60 carers from the Gold Coast and volunteer veterinarians are working around the clock, feeding every four hours.
Carer Ms Trish Wimberley said "Normally, female flying foxes will go to the ends of the earth to save their babies so for this to occur, they are really in dire straits."
If you are interested in becoming a registered wildlife carer Wildcare's  website http://www.wildcare.org.au/  has a great deal of information. If you are really keen to help now - today, there are many supporting jobs we can all do to free up the trained carers. Specific information about our native flying foxes is also available here http://www.wildcare.org.au/html/flying_foxes.htm
Don't try to rescue bats though - it's a delicate job that should only be attempted by a trained and vaccinated carer. Contact Wildcare on 5527 2444 for help with rescue of any native animal.
The flying fox or bat is an essential creature of the rainforests. Bats distribute seeds across hundreds of kilometres to ensure our rainforests can regenerate. One wildlife group has the motto 'no bats, no trees, no koalas' and it's true - without bats you would literally have plagues of insects and eventually our rainforests would die. For such a small creature they do a mighty big job.
DROP OFF POINTS in SEQ for fruit, Karicare baby formula and soft cloths
Redlands - Patti Durnin - 0418 883 890
Kooralbyn - Pam Elliott - 5544 6762
Logan - Trixie Benbrook - 3207 3512.