There has NEVER been a consultation about NORTH MACLEAN ENTERPRISE PRECINCT NMEP. It has historically been referred to as North Beaudesert Mt Lindesay Study Area NBMLSA prior to 2006. Logan and Albert Conservation Association Inc LACA has been following all aspects of planning across Beaudesert – now Scenic Rim shire, Logan City and South East Queensland commenting on SEQ regional planning. Our membership includes many longterm ie over 25 years residency in the area. We value the principles of Ecological Sustainable Development ESD. The residents whose land was removed from Beaudesert Shire and amalgamated into what is now Logan were mostly excluded from the first SEQRP under OUM Office of Urban Management.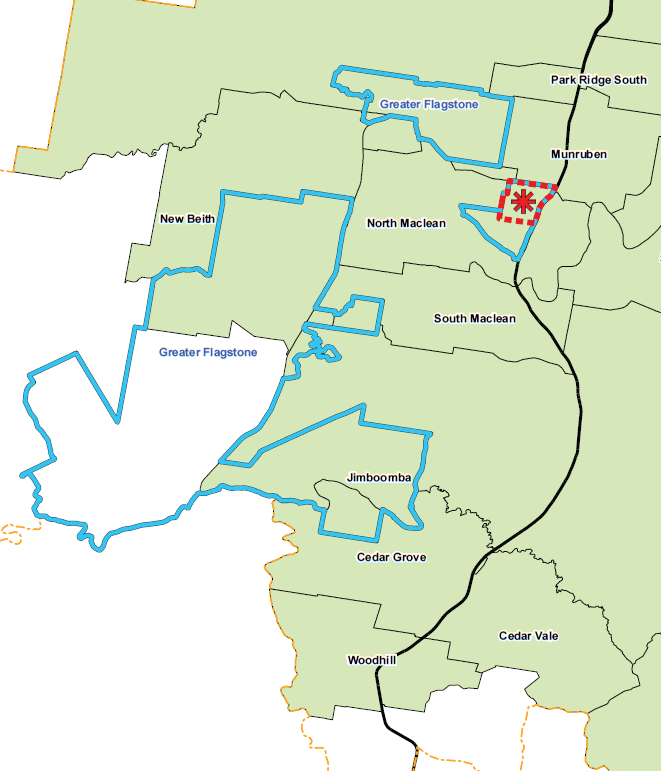 WOSP Whole of Shire Planning – but not in the north?
Beaudesert Shire conducted WOSP Whole of Shire Planning workshops but none were held in area "lost" with amalgamation. Community have never seen the resulting documents that fed into SEQRP. Although documents were transferred to Logan City after amalgamation we have not been able to access them despite our efforts. They claimed "commercial in confidence". Those documents have never been scrutinised for groundtruthing by the community.
Genuine consultation processes have been denied to residents of Greenbank, North Maclean and Munruben. Local residents have been denied the right to say no to this development since the OUM proposed it on mapping in 2005 as part of the SEQRP Mt Lindesay North Beaudesert Study Area. Every stage of local or state government planning different terminology has been used and this has confused the community e.g. North Maclean Enterprise Precinct for an industrial area, Mt Lindesay North Beaudesert Study Area ( 2005), where North Maclean Industry and Flagstone were two separate urban developments, then Greater Flagstone ( 2010) where suddenly North Maclean was added to the Greater Flagstone Area. Many people in the community were not aware that this was an opportunity to comment on North Maclean Industry at this time. When planning by local and state government has occurred, there has never been specific consultation for the community around North Maclean to be engaged with discussing their concerns and their ideas for how they would like to see their local area developed or planned for the future.
EPBC Act Referral 2013/6941 – Public Notification
PUBLICATION OF INFORMATION FOR ASSESSMENT ON PRELIMINARY DOCUMENTATION
NORTH MACLEAN ENTERPRISE PRECINCT
NORTH MACLEAN, QLD (EPBC Act REFERRAL 2013/6941)
Wearco Pty Ltd proposes to develop a Commercial Development (Industrial Estate) at 4499-4651 Mount Lindesay Highway, North MacLean at Lot 39 on SP258739 (formerly Lot 309 on SP137557). The proposed action is a controlled action under the Environment Protection and Biodiversity Conservation Act 1999 (EPBC Act) and will be assessed through preliminary documentation. The controlling provisions under Part 3 of the Act are Listed threatened species and communities (sections 18 and 18A).
The documentation relating to the proposal will be available for viewing between 23 February 2015 and 9 March 2015.
The final date for providing comment is by close of business on 9 March 2015. Interested persons and organisations are invited to submit comments in writing on the published material to:
Danny O'Brien
Dowd and Co Lawyers
3/355 Queen Street, Brisbane QLD 4000
Fax to: 07 3238 0699
Email to: This email address is being protected from spambots. You need JavaScript enabled to view it.
The referral documentation 19 files can be viewed from this page A hard copy of the documents has now been delivered to the Jimboomba Library for inspection following a request for same by LACA
What does assessed through preliminary documentation mean?

LACA has never heard of this process.
EPBC explains the process at
http://www.environment.gov.au/system/files/resources/38fc57cd-c744-4727-8fa0-51ecbd6e879b/files/flow-chart.pdf

Proponent's information is revised taking into account public comments. The proponent then provides the minister with the revised information or a notice stating that no comments were received.
Within 10 days the proponent must publish the revised information and comments, or if no comment were received, republish the relevant information.
The department prepares recommendation report and provides it to the minister. The minister makes decision to approve, approve with conditions or not approve the proposed action. • For assessment by EIS/PER or preliminary documentation, a decision must be made within 40 business days of receiving finalised documentation from the proponent.
It is therefore vitally important that CONCERNED RESIDENTS and WILDLIFE CARERS MAKE A SUBMISSION OR SIMPLE COMMENTS.
A SEARCH for NORTH MACLEAN on this website will show some history of community opposition to proposed industrial / enterprise precinct eg
http://www.laca.org.au/index.php/government/state-government/360-people-power-north-maclean-enterprise-precinct-not-needed
http://www.laca.org.au/images/stories/nmepbsc_to_oum.pdf
http://www.laca.org.au/images/stories/bsc_mr_3april2007_nmep.pdf
Logan City Council and local councillor for Division 7 at the time Cr Lynne Clarke were less than helpful in supporting community views. See http://www.laca.org.au/images/stories/north_maclean_issues_remain.pdf