J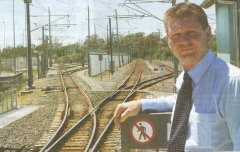 imboomba Times, Wednesday, December 17, 2008 reported the following
THE Federal government will spend $55.8 million on a rail upgrade from Acacia Ridge to Bromelton.
Member for Forde Brett Raguse said he was pleased to see infrastructure in the region receive a boost.
'The commitment from the federal government means that nation building is high on the agenda' Mr Raguse said.  'I have been pushing for big picture infrastructure even before entering politics'
The rail upgrade will start in February 2009 with completion forecast for December 2009
A significant part of the project includes upgrading the present track to dual standard and narrow gauge track, which will allow for passenger services as well as freight trains to utilise the new track.
"This project will allow for Queensland trains, along with national freight trains to be able to use the track and most importantly allow for passenger trains. This is significant for the potential future growth in the region," Mr Raguse said.
The project will also include replacing wooden sleepers with concrete sleepers which will reduce transit times and remove speed restrictions which can occur with timber.
Mr Raguse said the improvement would aid efficiency and make the line more productive.
There is also mention of this topic on the Australian Transport Discussion Board which is online here.
A question to ask is what background studies have been done.  Hopefully that information will be available in the public domain. Using the name Bromelton without further description is ambiguous as different sections of the community attach or visualise vary differeing images.  Further information and explanations are needed.