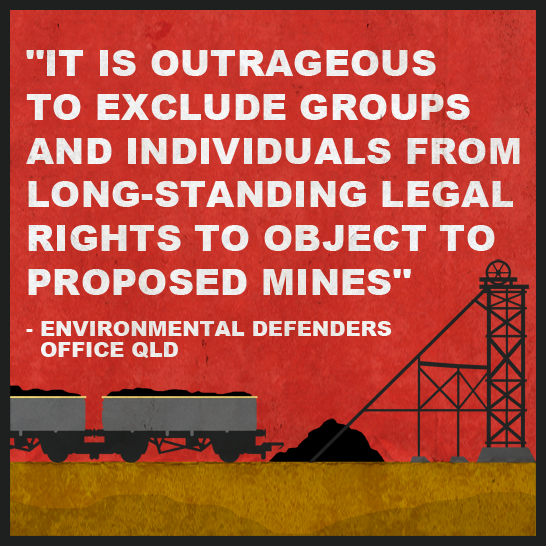 After pressure from EDO Qld last year, the Queensland government was stopped from rushing through changes to your rights without due process. Now, this year, the Queensland government released the 'Mining Lease Notification & Objection discussion paper'. The discussion paper - currently open for public submission - outrageously proposes to restrict community rights to object to mining applications and proposes in effect that up to 90% ofmining projects will have no public notification at all.
EDO has prepared documentation that you may like to consider when making a valid submission. It is important to include name and address of persons making the submission and usually a signature is required.
Read the government's paper here
http://mines.industry.qld.gov.au/mining/mining-lease-notification-initiative.htm
Making submissions
Please read the Mining lease notification and objection initiative — discussion paper before making your submission. Submissions close at 5.00pm, Friday 28 March 2014.
It is intended submissions will be provided to the Office of Best Practice Regulation in support of Regulatory Impact System consideration. If you wish to remain anonymous, this should be clearly noted on your submission.
Submissions can be made by email or post.
By email: This email address is being protected from spambots. You need JavaScript enabled to view it. (subject Mining Lease Notification and Objection Initiative)
By mail:
MQRA Program Team
Department of Natural Resources and Mines
Level 7, 61 Mary Street, Brisbane
PO Box 15216
City East, Brisbane, QLD 4001
The government says that out of about 100 mining lease applications each year, about 10% are declared to be high risk.[5] This means that for 90% of mining projects in Queensland, there will be no community submission and objection rights at all. What's more, there will be no public notification of these 'lower risk' projects so you may not even be aware they are underway.
There is nothing in the paper about how the government intends to address the cumulative impacts of many hundreds if not thousands of 'low risk' mining projects take place across Queensland.
I'm concerned about what is being proposed, what can I do?
Everyone has the right to send written submissions to the State Government.
The submission deadline is 28 March 2014.
Download EDO sample submission. This is a docx document. Contact Logan and Albert Conservation Association LACA Vice President at kfaldt@gmail if you require format doc
"As with any development be it mining, resources, agriculture, environmental and living, it impacts on all of us in one way or another. The stewardship of any country is the responsibility of the whole community and certainly, not just the government of the day". Quote by Central Queensland Grazier