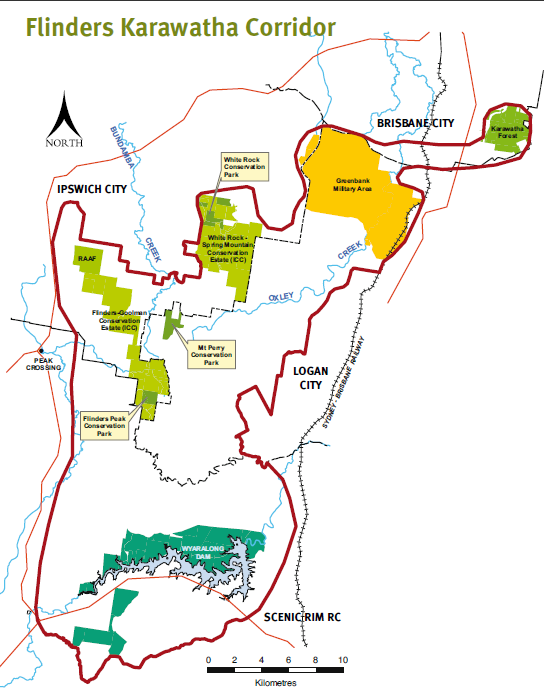 Flinders Karawatha Corridor - vision and planning for future
The Flinders Karawatha Corridor (the corridor) is recognised for its significant conservation, recreation, cultural heritage and social values. It is identified as a 'Landscape corridor' in the section Desired Regional Outcome 3.2 of the South East Queensland Regional Plan (SEQRP 2009-2031). A 'Landscape corridor' is defined under the Desired Regional Outcome 3.2 of the SEQRP as:
• Lineal areas with current or potential high confluence of landscape values and ecosystem services that have the capacity to improve connectivity between core landscape areas, people, places, infrastructure and ecosystems.
The corridor extends 60km from Karawatha Forest in Brisbane's outer suburbs to south of Ipswich at Flinders Peak and on to the Wyaralong Dam near Boonah.
Four local government areas fall within the corridor: Brisbane, Logan and Ipswich City Councils, and Scenic Rim Regional Council.
CLICK ON MAP TO GO TO DERM website look at or download maps
Have your say
Comments and ideas from landowners and the wider community are critical to the success of the Flinders Karawatha Corridor Project. You can send your feedback to:
The Community NRM Officer
SEQ Catchments
PO Box 13204
George St QLD 4003
Or email to This email address is being protected from spambots. You need JavaScript enabled to view it.
Submissions and feedback close on Friday 16 December 2011 at 5:00 pm.
Within the northern Logan section we are concerned that we encourage government to include low lying bioregional areas to provide connectivity for wildlife to move east-west, not just north-south in higher altitude areas.
http://www.nrm.qld.gov.au/land/planning/pdf/fkc-admin-plan_ap21302.pdf provides black and white not to scale map
http://www.nrm.qld.gov.au/land/planning/pdf/fkc-conserv-rec-areas.pdf updated 2013