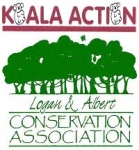 DID YOU HEAR THAT KOALA LAST NIGHT?
A long term resident of Greenbank last night reported hearing the unmistakable calls / grunts of koalas in trees on his property. This information was relayed to me less than 40 minutes after the noisy koala. Evidence available to us that koalas are NOT locally extinct in Greenbank . We were both attending the SAVE GREENBANK CAMPAIGN meeting 23 February2011
If we can prove that our resident Greenbank Jimboomba Flagstone koalas are alive and well we will have a greater chance of delaying inappropriate development.
Many of us have resident koalas that we see but do not report. Please report your sightings to LACA president Anne Page mkpage@bigpond. We have arranged to have our wildlife sightings accepted by DERM and ULDA.
SPOTTED TAILED QUOLL have also been seen in the area. We need to update that data also. GLOSSY BLACK COCKATOOS are another significat species. While all species are important to the survival of the habitat humans also need to have a healthy lifestyle, the more iconic species named carry greater levels of protection.