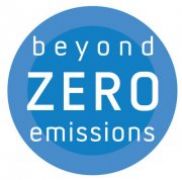 Matthew Wright director of Beyond Zero Emissions and 2010 Young Environmentalist of the Year is LEAF keynote speaker 5 June 2011. Beyond Zero Emissions a volunteer-based climate change and energy research organisation. It is now producing a second iteration of its Zero Carbon Australia Stationary Energy plan.
Click on image to view website. Australia does not need to be a fossil fool. Alternatives are possible without losing our quality of life.
Australia has announced it is set to get solar powered pollies as the Department of Parliamentary Services announced it would install photovoltaic panels atop Parliament House in Canberra. According to the Australian solar PV maker SilexSolar, work has already begun and the project is due to be completed mid-2011.
Matthew Wright is Founder and Executive Director Beyond Zero Emissions (BZE)
Matthew Wright epitomises personal sacrifice, determination, commitment and passion. In 2006, he set up Beyond Zero Emission in response to the inaction of leaders and decision makers in addressing issues related to climate change. His vision behind Beyond Zero Emission is to help bring about the changes needed to reach a safe climate for current and future generations.
This vision complemented by his inexhaustible passion has generating high level support from a diverse range of sectors. Environment Minister's Young Environmentalist of the Year Award is presented to the entry that has been deemed via the judging process to be an outstanding environmental achievement at a national or international level by an Australian individual between 18 and 30 years of age.
Be inspired - come along to LEAF listen to and meet Matthew Wright director of Beyond Zero Emissions and 2010 Young Environmentalist of the Year