Our first South East Queensland Koala Alliance video is 'in the can' and can be viewed at this link here.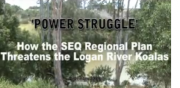 http://www.youtube.com/user/sbaltais#p/a/u/0/WT_DDDEvjHE
A group of concerned citizens from Logan have been engaged and actively campaigning to protect the Logan River from the first unsustainable proposal by ENERGEX to supply power for goverment's stated future population growth. The group VETO have a website www.veto.org.au which is currently being updated. There have been many sightings of koalas along the proposed power corridors. It would seem the big squeeze is being exerted on all species of the natural environment - animals and plants,microbes and man - to move over for the built environment with its manufactured concrete and steel structures.