July 2007 State government reply to Beaudesert Shire Council –
"it is not appropriate to reconsider the North Maclean designation at this stage. A formal review of the SEQRP will commence in 2008…any amendments will be considered during this process"
March 2008 Local council amalgamations
Northern areas of Beaudesert Shire Council (including North Maclean industrial area ) become part of Logan City Council.
Council elections were held in March 2008 for new councillors - allowing new councillors having no knowledge of rural residential values to make decisions about future directions for the area.
LCC councillors vote in support of 'local growth core matters' document to submit to SEQRP review. North Maclean industrial area was included in this document
This was a confidential document not to be released until after SEQRP was released
May 2009 SEQRP Review (2009-2031) North Maclean industrial area is still in the plans
July 2009 Logan City Council – $50 000 set aside in budget by LCC was not matched by state government (state money redirected to koala taskforce) . No koala surveys ever done e.g. West LCC ( areas that were once Beaudesert Shire Council)
18 Dec 2009 LCC releases 3 plan options for 'Greater Flagstone ' – North Maclean was in all 3 options . The community had no choice in saying 'no' to the North Maclean industrial area. The local community has still never been consultated about industry in a rural residential area.
Only 125 submissions were received for Greater Flagstone plans. The final plan for Greater Flagstone included North Maclean industrial area ( 4-5 timeslarger than the industry planned for the Flagstone area).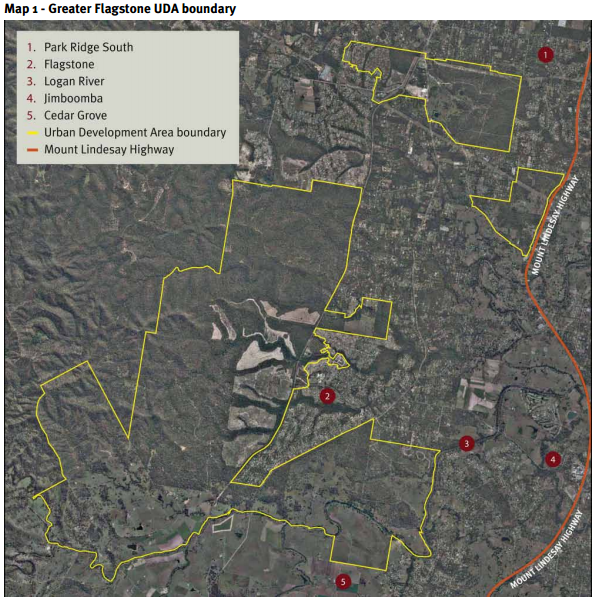 20 May 2011 State government approves Greater Flagstone plan, including North Maclean
July 2011 Section 30 notice Greater Flagstone UDA proposed development scheme ( affected owners) UDA = Urban Development Area
Oct 2011 Read Development Scheme published and linked here for Greater Flagstone Urban Development Area
July 2013 Applicant (Wearings Pty Ltd) first submits to federal government to develop property at 4499-4651 Mt Lindesay Highway – EPBC 2013/6941) at North Maclean (corner of Mt Lindesay Highway & Crowson Lane). Federal government declares it is a controlled action under Environmental Protection and Biodiversity Conservation Act EPBC because of threatened species known in the area e.g. koalas, spotted-tailed quolls, grey headed flying fox.
2014 SEQRP South East Queensland Regional Plan due for 5 year review – this did not occur under LNP state goverment (pre-election year)
July 2014 State government department – State Development, Infrastructure and Planning approve an application for a sand and gravel storage and distribution facility at the North Maclean industrial area site (Wearco – 4499-4651 Mt Lindesay Highway - dev 2014/580) .
No public notification period – the use was deemed suitable to the intended "industral use" and under Greater Flagstone structure plan this was allowed.
Jan 2015 State government elections – new ALP government
Feb – 9 March 2015 Federal government EPBC referral preliminary assessment ( threatened species) – public notification in relation to application by Wearco Pty Ltd to develop North Maclean site – intention to clear the whole 289 acres ( 45% of the total industrial area proposed for total North Maclean industrial area) . This is a precedent development for the area.
16 July 2015 Wearco report to respond to the issues raised by the community and a final report with a 40 usiness day decision making period commenced for EPBC
Report is available online until 3 August 2015 at http://reelplanning.com/wp-content/uploads/Final-Preliminary-Documentation-Report-Part-1.pdf
The community has no further opportunity to be consulted about this matter.
The federal environment minister Mr Greg Hunt or a delegated officer will make a decision.
Logan City Council - Logan Office of Economic Development LOED lodged a submission to support this development - based on the economic arguments put forward by developer and LCC's decision from 2008.
2016 Due for federal government and Logan City Council elections - with new mayor and some changed councillors
2016 after elections SEQRP South East Queensland Regional Plan review is expected.
Help us PROTECT KOALAS AND QUOLLS AND COMMUNITY
NOTHING IS PROTECTED!
THE COMMUNITY IS NOT PROTECTED!
THE ENVIRONMENT IS NOT PROTECTED!
THIS CAN HAPPEN TO YOU!