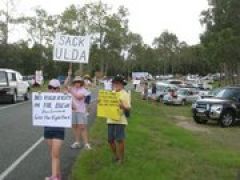 Draft 'blueprints' for South East Queensland's three new master-planned communities released
Deputy Premier and Minister for Local Government Paul Lucas was joined, on Friday 1 April 2011, by Ipswich Mayor Paul Pisasale and local MPs Rachel Nolan and Wayne Wendt for the unprecedented simultaneous release of the proposed master plans for Yarrabilba, Ripley Valley and Greater Flagstone Urban Development Areas (UDAs).
"This is the first time a community building program of this size and scale has been undertaken in Australia and it coincides with the one year anniversary of our government's Growth Management Summit," Mr Lucas said.
His statement that this marks the start of delivering the necessary planning framework to progress development of these three key areas as model communities in not credible. The media release was reported here
Since 2005 LACA has been advocating and lobbying for detailed background environmental studies to be both carried out and provided to the community as part of supposed openness and integrety of government. Access to studies done on behalf of Beaudesert has ben denied by Scenic Rimm Regional Council, Logan City Council [we now has 3 environment reports] and ULDA.
How can you have a model community - one that is based on ecological sustainable development principles when the existing wildlife with its essential habitat is not well mapped. This black hole of essential data must be filled before genuinely ecological sustainable development can b planned. Enen where we have an existing human settlement that is targeted for urban renewal or redevelopment.