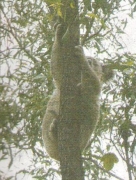 Residents are asked to participate in the Logan City Council's phone-in and web-based community koala survey on Saturday 22 and Sunday 23 October 2011
Report Your Wildlife Sightings here
Council would appreciate any sightings (or evidence) of threatened or locally significant wildlife you may have encountered in Logan, by submitting the following sighting details. You may also provide records of any deceased animals, such as roadkill animals, as this information is also important.
For the phone-in survey, please call 07 3820 1103 between 8am and 5pm to record your sightings from the weekend.
Information that we will be collecting on the day includes sex, health, location, behaviour and the trees species in which it is located. This information will help us obtain local data about koala distribution and inform planning and management. Of course if you do not know all of this, LOCATION is most important - other details help paint a better picture.
Thanks for helping with wildlife sightings - at all times.
The koala in the image above Babe was rescued from dogs in the Jimboomba area 2009. Legislation requires the koala to be released in the same general area after recovery. Read some of Babe's story here.