URGENT COMMUNITY MEETING NORTH MACLEAN ENTERPRISE PRECINCT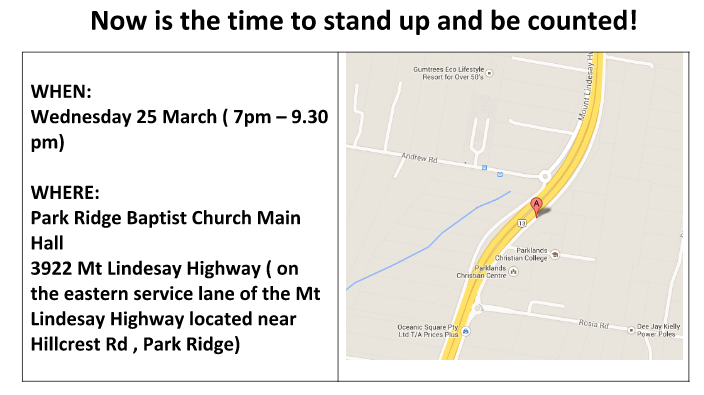 Now is the time to stand up and be counted!
WHY SHOULD YOU ATTEND THIS MEETING?
Logan City Councillors Trevina Schwarz and Laurie Smith are both attending.
The North Maclean Enterprise Precinct NMEP was first proposed in 1996 in the Beaudesert Shire Council Strategic Plan, then by the Office of Urban Management in 2005 ( OUM Queensland Government) .
It became part of the Greater Flagstone Area in 2009.
The community of North Maclean and Munruben have never been consulted about
(a) how the local area of North Maclean and Munruben should develop
(b) whether they desired to have this light to medium industrial land use located here in an existing rural residential area.
This is now at a very serious stage! Between 23 February to 9 March 2015, a proposal by Wearco PTY LTD ( the developer) was out for public comment as part of a Federal Government process – this public comment period was a legal requirement by the Federal Government EPBC Act (Environment Protection and Biodiversity Conservation Act) because there are federally threatened and
endangered species associated with this site and the general area (e.g. endangered Melaleuca irbyana vegetation community , endangered spotted tail quoll, endangered grey headed flying fox, vulnerable koalas).
There are numerous community concerns about the poor documentation provided to the Federal Government
no final plan for the 117 hectare site,
no detailed or final stormwater management plan,
no fauna surveys or studies at all,
no consideration of social impacts on the community or
no consideration of environmental impacts,
ridiculous offset proposals for clearing 117 hectares of koala habitat, 70 hectares in another shire!!!
no traffic studies,
no buffers at all proposed to reduce impacts on the neighbouring residents on Crowson Lane, Appaloosa Court, Shetland Drive, Andalusian Drive, Rosina Rd, Greenbank Rd, Beryl Parade, Scotts Lane (and many more).
WHO HAS ORGANISED THE MEETING?
The Logan and Albert Conservation Association Inc LACA has organised this meeting. Anne Page, President of this group, has been a resident of Munruben for 24 years. Anne has been following this issue since 2005.
The Logan and Albert Conservation Association organised this meeting because no one else would!
Contact: Anne Page ph 3297 0624 or Kathy Faldt ph 3200 0129
ENOUGH IS ENOUGH!
It is time for OUR community of North Maclean and
Munruben to stand up and be counted!
IT IS NOW OR NEVER!
Please share this information widely.