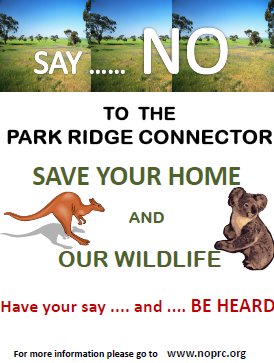 What is the Park Ridge Connector (PRC) and why the discord?
In summary, the PRC Motorway is a Queensland State government initiative, supported by the Logan City Council (LCC) to build a 6 lane (100 metre wide) extension to the Logan Motorway south from Wembley Road (Berrinba) to Granger Road (Park Ridge south) with future extensions planned to the area north of Camp Cable Road, Jimboomba. The primary function of this motorway is for long distance freight from the Logan Motorway through to Bromelton.
The community of concerned citizens have set up a website - including a forum if you want to discuss your concerns and issues. Go to http://www.noprc.org/ , download the flyers to share with your friends who are not online especially this one which provides a summary of issues and contact details
Join the FACEBOOK page http://www.facebook.com/NoPRCGroup
Logan and Albert Conservation Association Anne Page, 07 3297 0624 (AH), This email address is being protected from spambots. You need JavaScript enabled to view it.
Brisbane Region Environment Council Ted Fensom, 07 3801 2097, This email address is being protected from spambots. You need JavaScript enabled to view it.
This whole process is irresponsible planning - as has been shown to be the case with ENERGEX and their proposal to duplicate power lines and build towers on flood prone land. An independant report commissioned by the Minister for Energy has not supported the current ENERGEX proposal. We await the ministers decision on this project
A TRANSPORT AND MAIN ROADS "investigation / consultation" that fails to look at the use of public transport and cycleways for daily mobility - not just recreational riding is deficient to say the least.
There is growing awareness globally - very slowly at local levels - of the value of intact functioning healthy ecosystems - biodiversity infrastructure is a term LACA has coined. Globally nations are recognising the natural capital of the planet and universities such as Yale are delivering programs to students and others, making full content available online. The Economics of Ecosystems and Biodiversity (TEEB) presents the foundations of valuation of ecosystem services, dynamic interactions of people and ecosystems and their impacts on local communities, sub-national and national policy and international agreements.
The potential and almost certain loss of several local native species should the PRC project proceed has an unimaginable cost - financial and otherwise s we humans do not yet fully understand the interconnected nature of all living species. Life as we know it depends upon all the invisible micro organisms are part of life's cycle.